So, yesterday was quite an extraordinary day, as I got up extraordinarily early in the morning, got ready, and took my son with me to see U2 play a free, private concert at
Fordham University
as part of the ABC's morning show,
Good Morning America
. I had heard about it just a couple of days ago, when my wife texted me asking about it. I was in our media lab, just a few minutes before the start of my Interactive Media class, so I called her to find out what she was on about, and learned that someone from my son's old elementary school had asked her if I could get tickets. So I asked my students, and they told me that it was free, but you had to have a Fordham ID to get in. More on this later, but here's what the
New York Post
, a newspaper of sorts, had to say last Sunday (or read the article on their site by clicking
here
):
U2 RAISES THE ROOF

BAND SET TO ROCK FORDHAM

By JAMES FANELLI and DAN AQUILANTE

It could be a "Beautiful Day" Friday for Fordham University students and faculty. U2 is expected to perform at the Bronx campus that morning for

ABC

's "Good Morning America," according to sources and published reports.

U2'S EVENT 'HORIZON'

While the TV network and the university yesterday would not confirm the Bronx gig, the show reportedly will be strictly limited to college students and staff.

Bono

and the band are also slated to do five nights this week on "The Late Show with

David Letterman

" as they promote their latest album, "No Line on the Horizon," which goes on sale this week.

And so the rumors spread. And as it turns out, two teachers from my son's old elementary school were big big big U2 fans and dying to get, so they asked for my help in sneaking them into the show, and we obliged. So, they came to our house at 6 AM to pick up me and my son, I drove because I know the way and to increase the chances of getting on campus, and off we went. Traffic was light, which was a relief, so we got over the bridge and into the Bronx without much trouble. And we were able to get in without any difficulty as well, also a relief. Being an oldtimer at the school does have its upside, although I must admit others were able to sneak in as well.
Anyway, it was very exciting walking onto campus from the parking garage, and around Keating Hall where the concert was staged, and onto Edwards Parade, our quad. I knew from following some of my students on Twitter that they had let folks onto the quad shorly after 5:30. We arrived at 6:30, and the front area was full, but we were comfortable standing by the white tent with the control boards, and that was still quite close to the stage. The only down side was that, while it wasn't that cold out, high forties going up to low fifties, the lawn was wet, with lots of patches of ice and snow, and it didn't take long for my feet to get numb. But we all have to make sacrifices for rock and roll, right?
So, Good Morning America did a little report,
U2 Anticipation Builds
, which I can't embed but you can take a look at by clicking on that link. It's followed by an interview done after the show, taped inside of Keating Hall--the interview is actually pretty interesting, aside from it being neat to see them inside the building.
Anyway, they had some comedian-type doing warm-up with the crowd when we got there, and Good Morning America started up at 7 AM. The comic told the crowd that U2 would do a soundcheck soon, and said this several times, but they never did. It was a long wait, I have to admit, but there was lots of good feeling throughout the audience, and we did get to watch Robin Roberts and Sam Champion do their stuff in front of us, while Diane Sawyer and Chris Cuomo, who's a Fordham alum, did theirs back at the studio. About 7:40 they told us that U2 had just arrived on campus, and would do a sound check soon, which never happened, and not long after they said that Chris Cuomo and Diane Sawyer are leaving the studio and coming up to Fordham, which they did in record time. How they got here so fast during rush hour is a bit of a mystery, my guess is by helicopter. ABC did have one overhead at some points.
So, anyway, here's a view of the crowd in front of Keating Hall:
A few thousand, that's it. Very manageable, and well behaved I might add. And see the white tent? I'm standing right by the lower, right hand corner. Do you see me? Do you? Oh well. Here's a view from the other end:
So anyway, before the concert began, Fordham's President Father Joseph McShane, spoke to the crowd and made everyone feel special by noting that U2 had recently played for Obama's inauguration on the National Mall in Washington, DC, and now they were playing for us. For Fordham, he said, not for Columbia, or Georgetown, or Notre Dame. Oh, and classes were canceled for the morning, in case you were wondering.
Then Diane Sawyer, Chris Cuomo, Robin Roberts, and Sam Champion huddled together and introduced the band, who proceeded to play three songs from their new album (which I'm definitely going to buy, how could I not, and the music, while a bit diferent from their previous work, was good in its own right), starting with "Get On Your Boots," then "Magnificent," then "I'll Go Crazy If I Don't Go Crazy Tonight," and on that last one, Bono introduced it by saying that the song was written about Fordham University's campus (ha ha).
So, how about some music? You got it, just for you. Here're a couple of youtube videos embedded for your benefit, taped off of the broadcast. First, it's "Get On Your Boots" and "Magnificent":
Followed by "I'll Go Crazy If I Don't Go Crazy Tonight":
A bit later on, after some other segments, including a cooking segment they did over on the side, there was an interview with the band, Bono gallantly insisting that the sound be amped up so that the crowd could hear what they were saying.
And here's the segment itself, for your viewing pleasure:
Later on, they also played "It's a Beautiful Day," which closed out the broadcast:
But just for us they went on to play two more songs, "Breathe," and "Vertigo," and here are two videos of their last two songs made by someone who was standing close to the stage:
But if you're interested in pursuing this further, if you do a search for "U2 Fordham" there are well over a hundred uploads on youtube as of this writing, and to see how many there are now, just click
here
,
here
or
here
.
So, here's a link to Fordham's own write up of the event,
U2 Transforms Fordham into School of Rock.
That's pretty clever, kudos to my friend Bob Howe on that one. They may move the article (the URL has it under top stories right now), but I doubt they'll ever remove it. The piece has a great opening, too:
The biggest rock band on the planet gave a musical master class at Fordham on March 6, the likes of which no one will ever forget.
I'll let you read the rest for yourself over there. Fordham also has a blog (who doesn't these days?),
Fordham Notes
, and the post on the event was entitled
'Awesome' Was The Word of the Day
. You can read it in its entirety for yourself, but here's a few paragraphs I think are worth a quote:
Fordham Security was on their game at several checkpoints, aware that student I.Ds had become a hot ticket. Students, many who broke night in order to get the best "seats" in the house, enjoyed the show.

"It was worth waiting outside since 5 a.m.," said Fordham College at Lincoln Center sophomore Jenny Hirsch. "They were great!"

The front crowd was student-heavy, but the back was much less homogenous. Professors, deans, administrators, alumni and even the members of the local firehouse lingered around the fringes to watch, many on tiptoes. Some hard-core U2ers balanced precariously on gates protecting the giant speakers, weathering the thump of the heavy base to get a glimpse of Bono's theatrics.
Another cool blog post came from the
Brooklyn Vegan
, entitled
U2 played Good Morning America at Fordham University - pics & setlist
, and includes some really outstanding photographs. Here are some of my favorites:
As you can see, it was cloudy, but fortunately it didn't rain.
Yes, Diane Sawyer is quite the rock and roller!
Rolling Stone magazine
also got in on the act with "
U2 Rock Fordham University: On the Ground at the "Secret" Set
." I'm particularly fond of the last paragraph of that article:
Good Morning America chose Fordham for the segment for its location and "warmth." But as a Catholic and Jesuit university dedicated to graduating "men and women for others," it is particularly fitting that U2 would perform at Fordham. "U2 transcends rockstardom," said Fordham-president Father McShane, S.J. "They are deeply committed to social justice and advocacy." McShane added that the band represents a group who display "great joy in life by giving back to others." U2's performance brought Fordham into 4.5 million homes this morning, "rightly putting Fordham on the map," McShane said — and helping the campus justify its 2007 Newsweek title of "Hottest Catholic School in America."
And the
New York Times
also had something to say with "
U2 Sneaks Into Fordham, and So Do Fans
" which has some relevance to the story of how I brought those two teachers in with me. The article, by Corey Kilgannon, begins like this:
"Biggest band in the world is playing the Bronx, a block from my apartment, and I can't get in," said Chris McCluskey, a truck driver who lives near Fordham University, where the band U2 played on Friday morning.

The concert was notable for its scale (small) and location (on a modest grassy quad) on the college's Rose Hill campus on Fordham Road in the Bronx, an area better known as the home of the Bronx Zoo than a site for major concerts.

By roughly 8 a.m. the band and the crowd could already be heard, and Mr. McCluskey's pace quickened as he hurried around the campus perimeter, trying to find a vantage point from which to get a look.

"How can they hide a concert in there, where you can't see it from outside?" he said, walking around the entire campus. "I would have been better off going up to my roof to watch."
And now on to the sneaks:
On Fordham Road, among the residents headed to subway and bus stops, five women — who looked generally disoriented — searched for the next campus entrance. They had already been turned away at several spots, they said.

The women said they were hairdressers from Grand Rapids, Mich., and had come to New York City on vacation because they heard U2 was playing at a college in the city, to be televised on "Good Morning America."

"We heard it was a free concert — we didn't know you needed ID to get in," said one of them, Liz Jones, 28. "We've tried begging, pleading, jumping the fence. We can't get in."

They approached Officer Richard Black, who was posted on Fordham Road.

"Please, can you get us in?" Ms. Jones said.

"Look where they put me," Officer Black said. "Do you think I could get you in? I can't even get myself in."

The women tried a different entrance and told the security guards there: "We don't have any weapons. You can strip-search us."

The guards declined and the women tried the next entrance. They heard a roar go up from inside the campus and one of them, Felicia Duron, 24, grabbed the fence and groaned. Finally, at another gate, they once again asked to be let in.

"Where yas from?" the security guard asked, looking them over.

"Michigan," they intoned, in unison.

He paused, looked at them and said: "O.K., I'm going to turn my head now. I didn't see anything."

They whooped and ran in, and headed toward the grassy quad in front of Keating Hall, where the band was playing for several thousand students, faculty members, alumni and campus employees.
A rather endearing anecdote, and here's the picture that accompanied the tale:
The article actually continues on to say
By crowd size, the concert resembled a small-town summer evening pops concert. One could walk easily within a stone's throw of Bono and still have room to dance or run a 50-yard dash.
And that really was amazing! Anyway, a bit later on, the article explains
The concert was free, but Fordham officials warned the public ahead of the time that admission was limited to students and faculty members with current Fordham identification. Still, there was no lack of people around the perimeter who had come hoping to infiltrate the campus. Few were that lucky, with a heavy police presence and a tall, spiked fence ringing almost the entire campus.

On Craigslist, there were numerous postings by people looking to sell and buy Fordham ID cards. Typical was this entry: "U2 concert at Fordham Friday, I will sell you my ID to get in!!! — $300."
I think that's hilarious! We certainly have some enterprising students, don't we? And talk about the power of the new media! Anyway, the last part of the article is well worth including here as well, because it speaks to what sets Fordham apart from many other schools, and I'm not talking about U2 here:

After the band played a rousing two short sets of music, Fordham's president, the Rev. Joseph M. McShane, took the stage and addressed the cheering students.

"You may wonder why U2 chose us," he said. "They chose us because we're in New York, because we are Fordham, because of the warmth of the campus." He drew a parallel between the campus principles of Fordham and those of U2's members: "social justice, service of the poor and advocacy."

Father McShane said he was pleased to see so many students show up for the concert so early — students began lining up at 3 a.m. — and joked that the university would add extra-early classes to the curriculum.

"So ladies and gentleman, there will be class," he said, "but you've had the experience of a lifetime."
Social justice and a sense of humor, that's what we're all about!
After the concert was over, we went around to the other side of Keating Hall, to wait for the band to come out, on the urging of the two teachers who were, after all, rather rabid fans. But after close to an hour we gave up, since my son really did have to get to high school before missing any more of his classes. Anyway, here's a photo of what that scene looked like:
They didn't come out for another two and a half hours after we gave up, I was later informed, as they were, among other things, giving interviews inside Keating Hall. Here are some pictures from the post-performance interview with Good Morning America: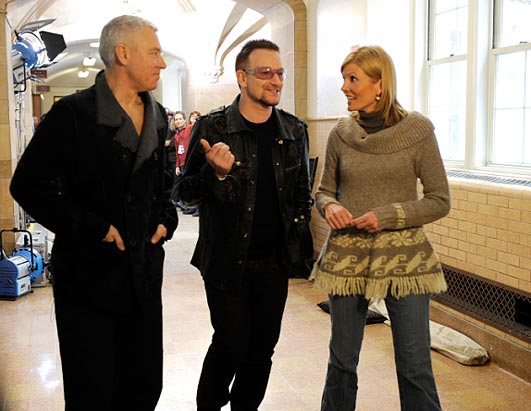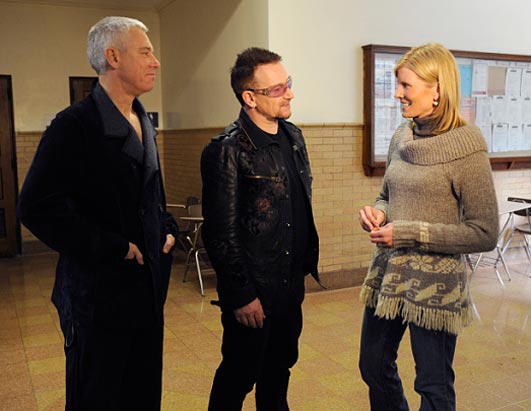 It's just cool to see them in this familiar hallway, and on these familiar steps: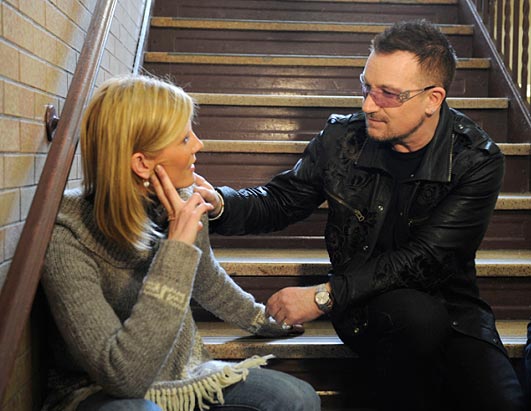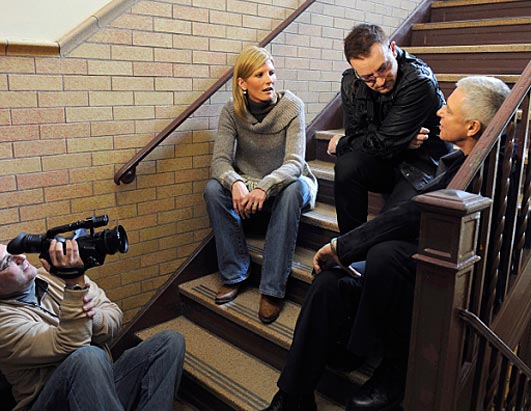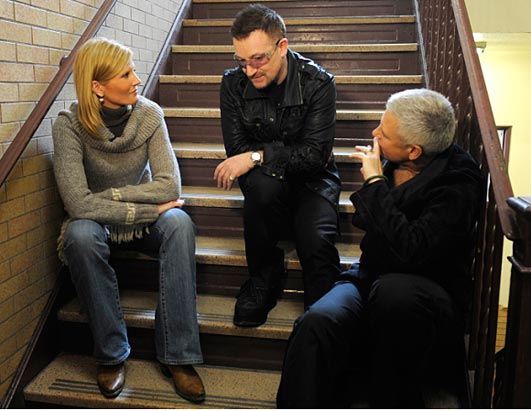 And that pretty much sums it up, just a truly extraordinary, unique, and exciting experience. Fordham
rocks
, and that is just
way
cool! And as Fr. McShane put it, thank you, and U2!