Why yes, yes I do, I do want a medal.
Well, actually, getting a medal was not exactly on my bucket list, or to do list, or anything like that. I mean, who gets medals after all?
Well, if you're in the armed forces, maybe you think about getting one. But I think you have to go through some kind of ordeal, be exposed to danger, demonstrate bravery, get wounded, or worse.
Or, if you're an athlete, you'd have to dedicate years and years of your life to strict discipline and training, and then come in win, place, or show in the Olympics or some such competition.
Well, I didn't get a medal for doing anything heroic or coming out victorious or anything. Rather, a line from a Billy Joel song comes to mind,
I found that just surviving
was a
noble fight
. A popular television program also comes to mind...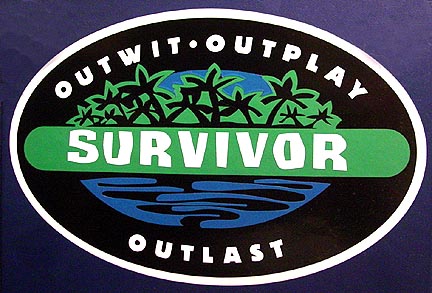 Well, I did
outlast
after a fashion, and since that required getting tenure a while back, I guess
outwit
and
outplay
might be applicable.
You see, I got a medal for being at Fordham for 20 years. Which is a lovely gesture, after all, but has it really been 20 years?? Already?? Really?? God, where does the
time
go?
So, specifically, I was given a Bene Merenti Medal. When I first heard about it, I thought it was some Italian crooner named Benny Marenti, or maybe a clarinet player. But no, it's a medal all right. So I consulted Wikipedia, which has an entry,
Bene merenti Medal
, which says:
The Benemerenti Medal was instituted by Pope Gregory XVI in 1832 and is conferred on those who have exhibited long and exceptional service to the

Catholic Church

, their families and community. It has the word benemerenti (to a well deserving person) on its face, surrounded by a crown of oak leaves; the ribbon is made of Papal colors.
So, that's where it came from. Now, here's what it says in the program guide for The 2009 Fordham University Convocation, which was where my medal was presented to me:
Alyosius J. Hogan, S.J., president of Fordham from 1930 to 1936, had the gold Bene Merenti Medal specially struck for the first Convocation of all the faculties, May 10, 1931. On the face is a reproduction of the University seal, and on the reverse is the inscription "Bene Merenti de Universitate Fordhamensi" and the name of the recipient with the years of his or her service.
As for the ribbon, it's good old Fordham maroon!
The university convocation was held on March 8, and there were about 50 of us receiving awards, a bunch of us getting the 20-year Bene Merenti, and a few more getting 40-year Bene Merenti medals. For those not on the faculty, there were a number of recipients of the Archbishop John Hughes Medal for Service who were also in their 20th year with our shcool, and a couple more receiving the Sursum Corda Award for three decades contributing to Fordham's mission.
So, we were called up to the stage one by one, and the President of Fordham, Joseph M. McShane presented us with our medals. I had to bend a bit as he put it around my neck, and we posed for a photograph, taken by Ryan Brenizer, and thanks to Bob Howe for providing me with the file of this photograph for Blog Time Passing:
While I was up there being presented with the medal, Michael Gillan, Dean of Fordham College of Liberal Studies, read my citation. I had no idea what the citation would be until I got to Convocation and read it in the program. They don't ask us what to say, it's a complete surprise. And I only learned today that the citation was written by my old friend and colleague, Ed Wachtel (coincidentally, I recently wrote about him and our past history in a post here entitled
The Name of the Medium or Getting on Track with the New
). Well, anyway, here's what it says:
Lance Strate

|

Professor of Communication and Media Studies



Lance Strate has authored and edited four books and more than 100 scholarly articles. He founded and presided over the Media Ecology Association. He is a past president of the New York State Communication Association and is currently the Executive Director of the Institute of General Semantics. He has chaired the Department of Communication and Media Studies and directed the graduate program in public communications. While these few notes about Lance's life might suggest that he is entirely immersed in academic pursuits, that conclusion would be a mistake.

His latest and perhaps greatest enthusiasm is blogging. Lance maintains two blogs that attract large and fervent Internet audiences: Lance Strate's BlogVersed and Lance Strate's Blog Time Passing. The first blog is an outlet for his piquant and pun-filled poetry, as well as collaborative multi-media works. The second is, in his own words, "

A blog for passing time, and passing messages about media, ... about language and symbols, about technology, about communication, about consciousness, about culture, about life and the universe, about everything and nothing, about time...

"

Lance Strate is about a lot of things. Perhaps he will become known as the first Renaissance blogger. With love and dedication, Lance brings the breadth of his interests and gifts to the entire Fordham community. We are fortunate to have him with us.
So, you see? Blog Time Passing figures prominently in all this! Ain't that a hoot!
So, actually, Dean Gillan only read excerpts from the citation, but he did read all about this blog, and that drew a big laugh from the audience, especially as Joe McShane put on an exaggerated gesture of astonishment and shock that I would be engaged such an activity, and I responded with gestures of innocent helplessness. What can I say, we put on a good show.
After the ceremony, we were also given beautifully framed certificates bearing the citation, so this will be hanging proudly in my office before too long. I also understand that we'll be getting copies of our photos as well a little later on. And a few days before Convocation, the Dean of Fordham College at Rose Hill, Brennan O'Donnell, sent me a lovely hand crafted glass paperweight featuring a picture of Keating Hall, Fordham's traditional signature building, you know, the one in front of which U2 played (as detailed in my previous post,
Fordham Rocks and So Do U2
). So lots of loot, heh, heh. Oh, and Dean O'Donnell will be leaving Fordham at the end of the school year for a new position as President of Manhattan College, where my friend Thom Gencarelli started up and is chair of their new communication department--congratulations and good luck, Brennan.
The Convocation itself also included a performance by the Fordham University Choir who, in addition to playing the National Anthem at the start of the event, and the Alma Matter at the close, gave us a delightful arrangement of a traditional Irish children's song called "Tell My Ma." For a simpler, traditional folk version that you can listen to, click
here
, and to read the lyrics, click
here
.
Also, President McShane delivered some remarks in his charming oratorical style, the essence of the Jesuit ideal of
eloquentia perfecta
. Significantly, he thanked our families for sharing us with the University. And afterwards, he treated our families, and us, to a lavish reception. It's good to be a medalist!
Actually, while all the faculty are invited, they especially like to get the previous Bene Merenti winners to come, and have them march into the auditorium ahead of the new recipients. So I think that I will be back next year. After all, it's a chance to wear the damn thing, the only other time would be at graduation ceremonies with the old cap and gown.
So yeah, yeah, I do want a medal, and I'm honored to have one!